NOW AVAILABLE
FREE DOWNLOAD:Patient Radiation Handout
Contact
Please feel free to contact me with questions or comments about the site or for information about sponsorship.
Dr. Hanley graduated from the University of Virginia School of Medicine, completed his Radiology residency at the Medical University of South Carolina, fellowship in Non-invasive Cardiovascular Imaging at Brigham and Women's Hospital in Boston, MA and now lives and works in Virginia.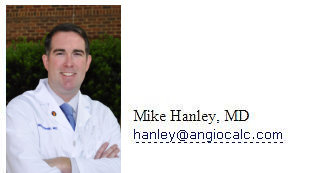 ---

For information on cerebral aneurysms, please visit
www.AngioCalc.com
. AngioCalc is dedicated to providing quality resources for the management of cerebral aneurysms and features an online calculator that calculates cerebral aneurysm volume and percent packing volume after coil embolization. The site also provides a neurovascular imaging library and sample cases.
Together, dedicated to improving the understanding of radiation risks from medical imaging. Calculate your dose and estimate cancer risk from studies including CT scans, x-rays, nuclear scans and interventional procedures.